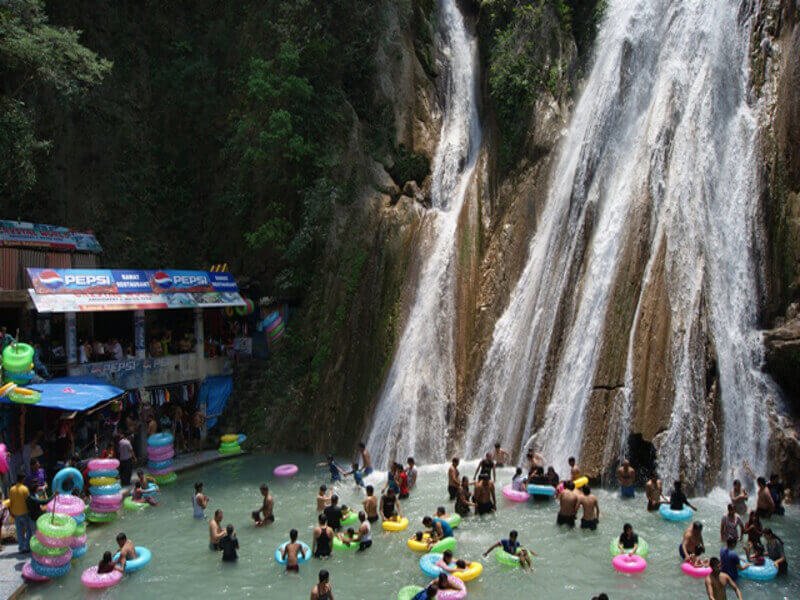 Most of us have heard about Mussoorie and definitely have hopes to visit it someday. But for those who haven't, Mussoorie is one of the most popular hill stations in North India. It is located in Uttarakhand and is quoted as 'The Queen of Hills'. It is a major tourist attraction and it definitely is one of the best places if you're looking for a peaceful, humble and adventurous trip.
Well, Mussoorie has got all the attention it needs among tourists. The hotels in Mussoorie are fully booked with tourist from all ver the world. But what about the places nearby?
There are a lot of places near Mussoorie that has been unexplored by many tourists who visit Mussoorie. So the next time you visit Mussoorie, make sure you also check out these wonderful places. (It would definitely be worth your time and money!)
So, places within a proximity of 15 km from Mussoorie are,
Kempty Falls, Jharipani Falls, Mossy Falls and Bhatta Falls – All these waterfalls are surrounded by greenery and gives a soul-satisfying experience. These range from seven to fifteen km from Mussoorie.
Van Chetna Kendra and Benog Wildlife Sanctuary – These are a well-established bird and wildlife sanctuaries. Van Chetna Kendra was established in 1993 and is widely popular for extinct bird species and other wildlife. It is situated at a distance of 11 km from Library point, Mussoorie.
Benog wildlife sanctuary is famous for species like Red Billed Blue Magpie, Himalayan Goat, etc. It is also covered with various medicinal trees and plants. It is 11 km from Library Road, Mussoorie.
Jhwlaji Temple and Nag Devta Temple – These temples are at a distance of 9 and 6 km from Mussoorie. The Nag Devta Temple is a humble abode of Lord Shiva and provides us with a parallel view of Doon Valley.
Jhwlaji Temple is a humble abode of Goddess Durga that provides us with a parallel view of Aglar river valley.
Now let's explore places with distances ranging from 25 to 89 km from Mussoorie.
Nag Tibba – This is approximately 57 kilometers from Mussoorie and is located in Nag Tibba Range. It is a famous trekking spot and is Home to 'The God of Snakes' called Nag Devta.
Dehradun – This place is approximately an hour drive from Mussoorie and is the capital city of Uttarakhand. Famous places to visit are the Robbers Cave, Khalanga Memorial, Lacchiwala picnic spot, Dehradun zoo, Hanol Temple, Mindrolling Monastery, etc.
Kalesar National Park – It is situated in Yamuna Nagar district in Haryana and is a two and a half hours drive from Mussoorie. This place is available for wildlife safaris and is known to have a lot of medicinal plants.
New Tehri – This also is a two and half hour journey from Mussoorie which is located in the Tehri Garhwal District in Uttarakhand. Famous places to visit are Chandrabadani Devi, Shri Adinath Digambar Jain Mandir, Khatling Glacier, Mahasar Taal, Seshtra Taal, etc.
Haridwar – This city is one of the seven holiest places to visit in India and is two and a half hour drive from Mussoorie. There are a lot of famous temple shrines to visit such as Shanti Kunj, Piran Kaliyar, etc. Famous shopping places include Moti Bazar Ranipur Mor, Bara Bazar, etc.
Dhanaulti – It approximately takes two and a half hours from Mussoorie and is between Mussoorie and Chamba in the Gharwal region. Famous places to visit are Eco Park, Aaloo Khet, Himalayan Weavers, Surkanda Devi Temple, etc.
Rishikesh – This is a popular pilgrimage town in India and is approximately 77.6 km from Mussoorie. It is the 'Gateway to Garhwal Himalayas' and there are many well-established places to study yoga and meditation. There are a lot of famous places to visit such as Tohri Dam, Kodia Jungle, etc.
If you have more days to spare and can afford to go beyond 89 km from Mussoorie, then you can visit Nainital (which is nearly 320.5 km from Mussoorie.) From Nainital, you can explore nearby places like Bhimtal, Sattal, Binsar, Mukteswar, etc.
Agra is also approximately an 8 to 9 hour journey from Mussoorie. Again from there, you have a lot of places that can be explored.
So, we have listed you some unknown places nearby Mussoorie, so that you can plan your trip well and have an effortless trip.
Bon Voyage!